Ashtanga Yoga Beginner's Program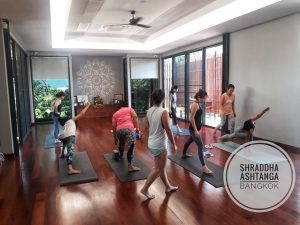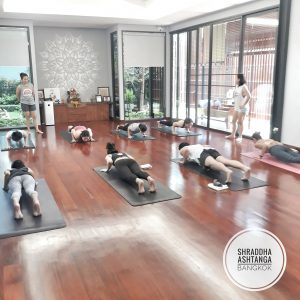 Who should take this class and why?
Absolute beginners or practitioners who are curious to learn about Ashtanga or Mysore practice. 
 This is NOT AN INTENSIVE COURSE. The goals are to build a confidence and to establish a solid and basic for self-practice so that practitioners could do self-practice or feel comfortable practicing in normal mysore class setting. 
We take 8 practitioners per group so that we can provide best support for everyone. 
Price: 4,000 Baht (six weekly meetings + 45 days of unlimited class). 
Time: 11.00 AM – 1.00 PM
*** Due to COVID situation, we are not opening beginner's program at the moment but you are more than welcome to join Mysore class which is for all levels. ***
What did practitioners in the previous groups say?
"I really love this program. It's very useful and enable me to be able to do self-practice at home. It's helpful if you are interested in start practicing Ashtanga. The atmosphere is great for learning and the teachers are very friendly and knowledgable."
"This is the first time that I realized how you would feel when getting good energy and good intention from the teachers who want to share their experience with all their hearts. I totally encourage everyone to have open-minded to join this class."
"I am so glad that SABKK has this program and I hope this will continue more often. Many of my friends are still afraid of starting Ashtanga and I would recommend them to join this program. I personally love Ashtanga and I will keep practicing."