Ashtanga Vinyasa Yoga is a style of yoga as exercise created by K. Pattabhi Jois during the 20th century, often promoted as a modern-day form of classical Indian yoga. The style is energetic, synchronising breath with movements. The individual poses (asanas) are linked by flowing movements (vinyasas).
Currently, ashtanga yoga has six series with set sequences: Primary, Intermediate and four Advanced Series. All students begin with Sun Salutations and move through the Primary Series at different rates, only advancing under the teacher's guidance, which builds a strong, safe, sustainable practice.
Ashtanga vinyasa yoga emphasizes certain main components, namely tristhana ("three places of action or attention", or the more physical aspects of poses) and vinyasa. Tristhana means the three places of attention or action: breathing system (pranayama), posture (asana), and looking place (drishti).
Ashtanga or the eight limbs of yoga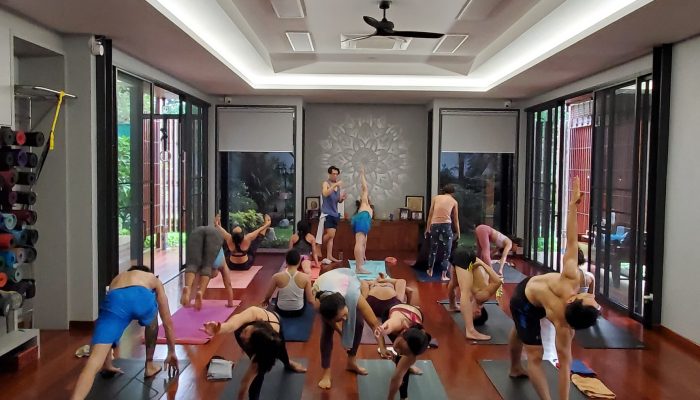 Ashtanga is Sanskrit for "Eight Limbs." The eight limbs form a sequence from the outer to the inner.
Asana, our physical practice, acts as an entrance point to the eight branches and easily is accessible by everyone. Through correct guidance and consistent practice, it reveals entrance to the other seven limbs.
Rules to live by in the society
Self-practice for personal growth
Retracting the sensory experience from external objects.
Holding one's mind onto a particular inner state
Becoming actively engaged with its focus
Being oneness with the subject of meditation
"Always practice with awareness and intention."
Not sure if you are ready for regular class?